Hi Forumites,
A while back, about 18 months or so ago, I decided that I would seriously consider doing a mid-mount, RWD Mini conversion and for a few good reasons:
1. I already had the approval letter from the QLD Department of Transport to do the conversion
2. I wanted to do one, and push the engineering envelope so to speak
3. A lot of people said it couldnt be done, and if it could, it wouldnt be registerable!
Loving a challenge, I went on the hunt for a suitable donor and a suitable shell. In the original proposal I had stated the use of a 4E-FTE powerplant to power the beast, but quickly dismissed it - not enough power without going silly on the boost scales, and just too problematic getting air to intercooler if its in the back, and too much plumbing if it was in the front. I decided I wanted to go NA, and forego all the plumbing nightmares associated with forced induction.
After doing a lot of research, I settled on a Honda VTEC F20B - a really sweet motor designed by Honda to form the basis of their 2.0 litre touring car assault in the European Touring Car series. The engine never came to Australia, but lived on in the JDM and European Accord and also the JDM Torneo. I chose the unit for its wonderful archtecture - all alloy with steel liners (light), short stroke (8500rpm redline easy), excellent rod/stroke ratio (better than B18), large valve head (breathe baby!)and of course VTEC. I finally found one imported into Australia, and grabbed it.
The F20B - brilliant donk and grossly underated: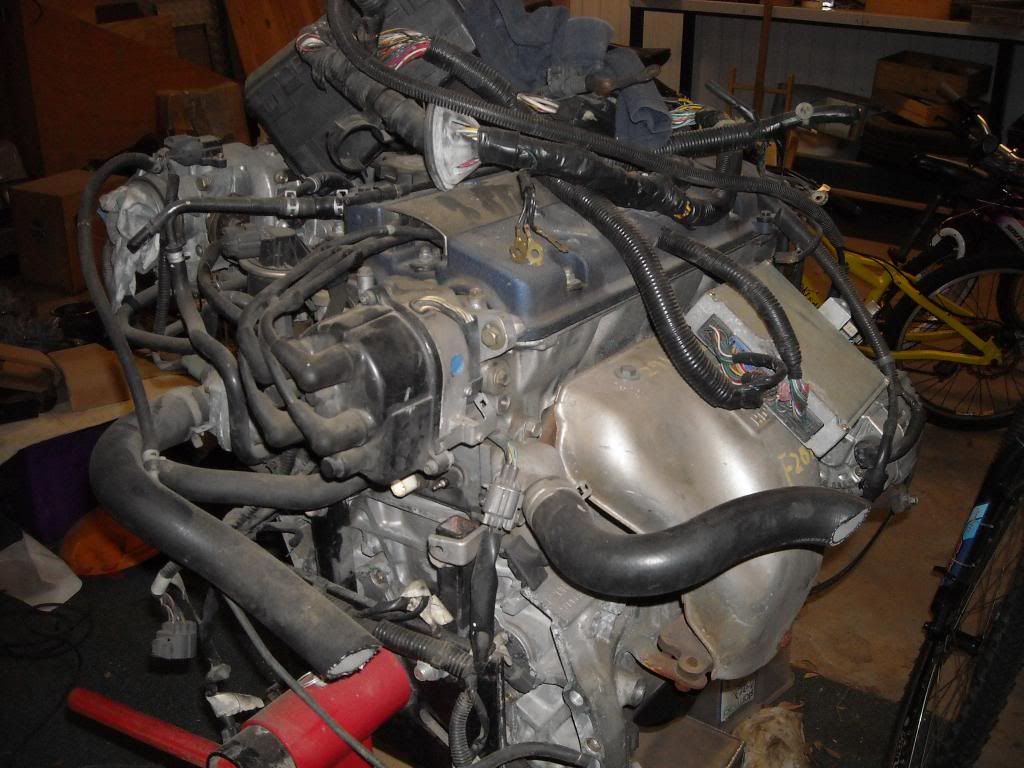 The next checkbox was to find a good shell. And it had to be a roundy, seeing as I already had a Clubman (El Gato). I ended up grabbing one through the Trading Post from a guy just over the border in Terranora - the shell was sound, reasonably straight, minimal rust, came with hanging panels, but nothing else - perfect, as I wasnt going to use much more of the Mini than this - I ended up getting it for a steal.
The shell came home the usual way - on the trailer, and I made up a little trolley for him to sit on, as I didnt know exactly when I would get around to starting him. At this point he needed a name, as all my cars have names, and I decided on Leonidas - the legendary King of the Spartans - wild, defiant, strong and capable, and a leader (as in being out in front and breaking new ground) - the name suited him and so it stuck.
Leo finally arrives at home: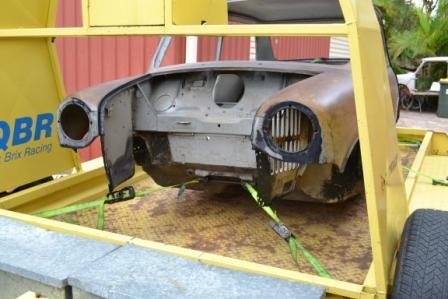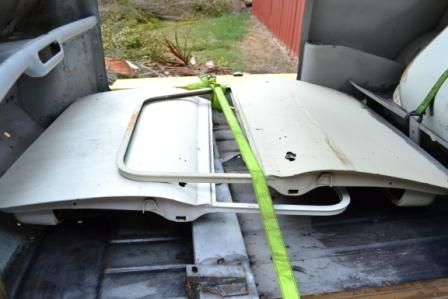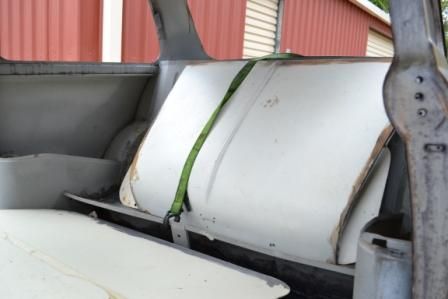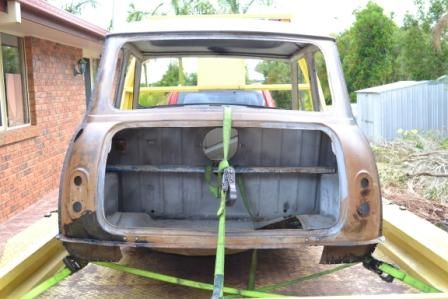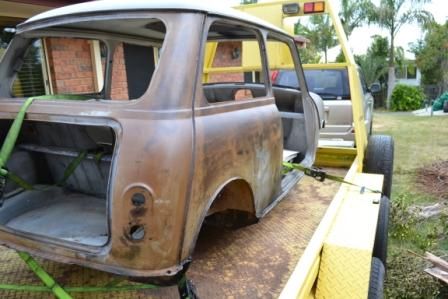 At one point someone had put a sunroof in it, and the guy I bought it off ended up filling it in: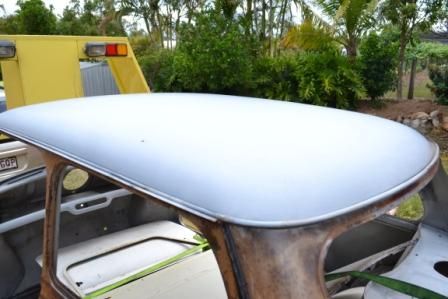 Its a very early shell, July 1964 was the date the PO mentioned - way older than me even
: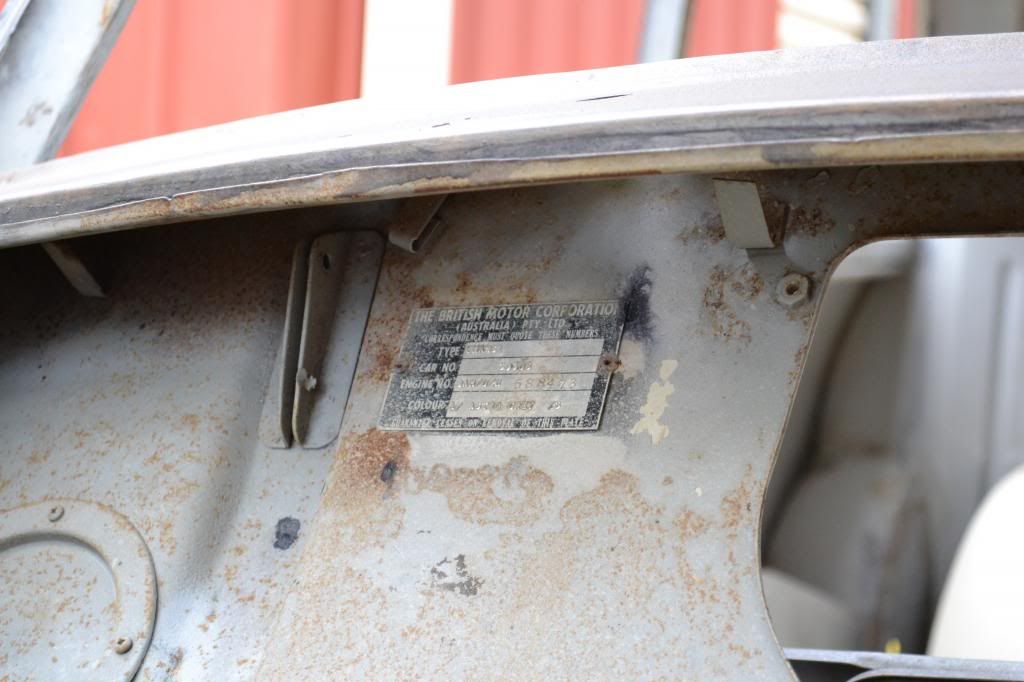 The trolley, quickly knocked up but sturdy: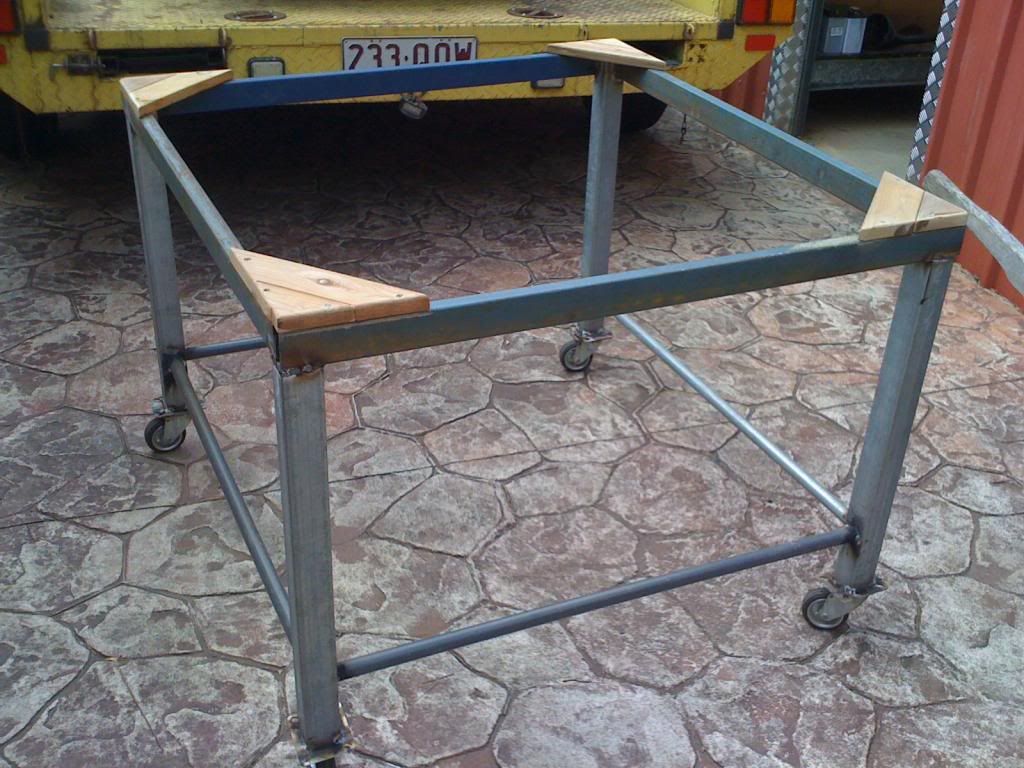 Just ended up pulling him to the end of the trailer, and lifting him on one end at a time: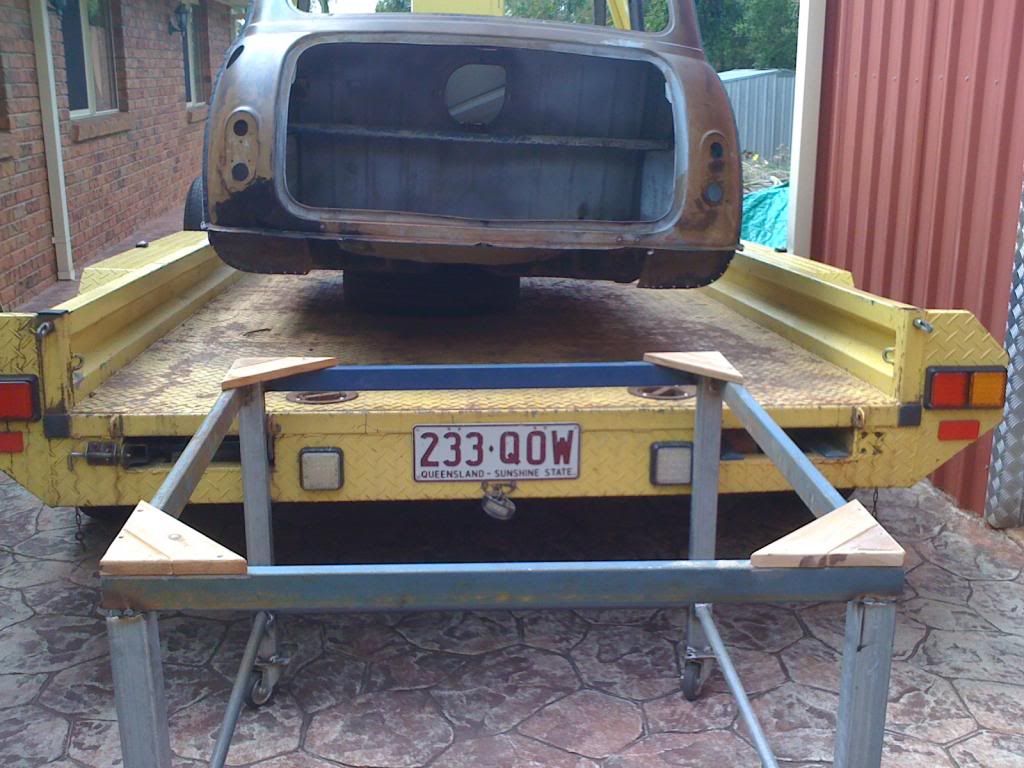 And there he sat in the top shed, and sat, and sat - how indignant with a name like Leonidas: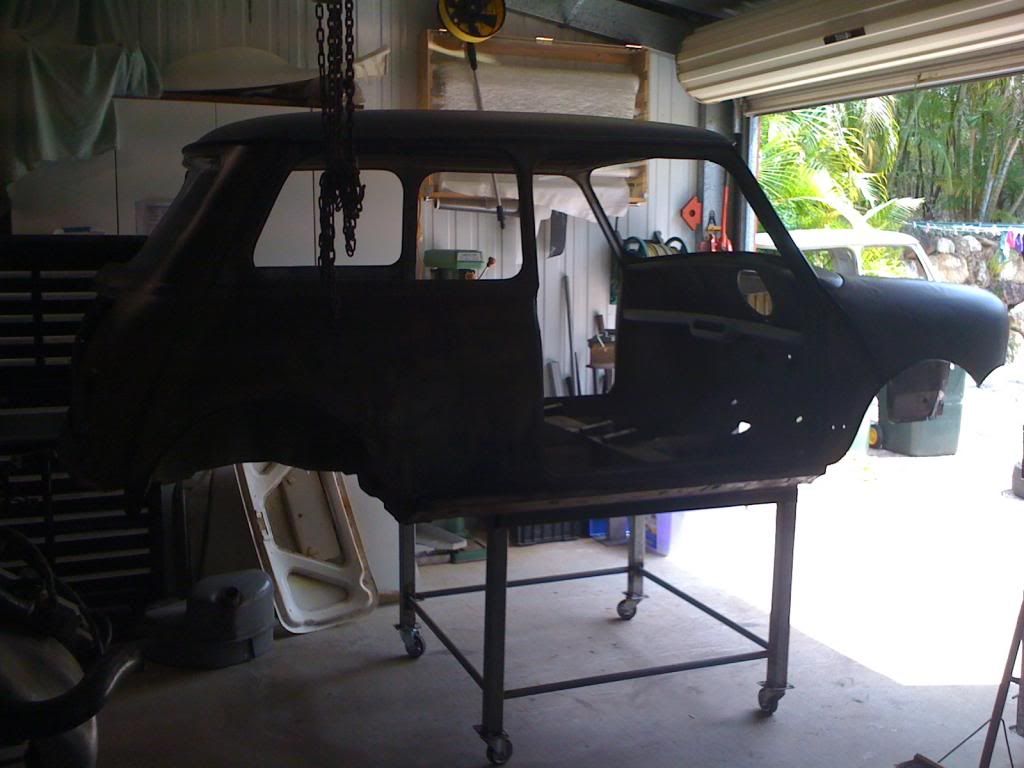 When the new workshop was built, I ended up transferring him down there as there was more room, and just on the off chance that he might get started one day. Found a cover for him to keep the dust off: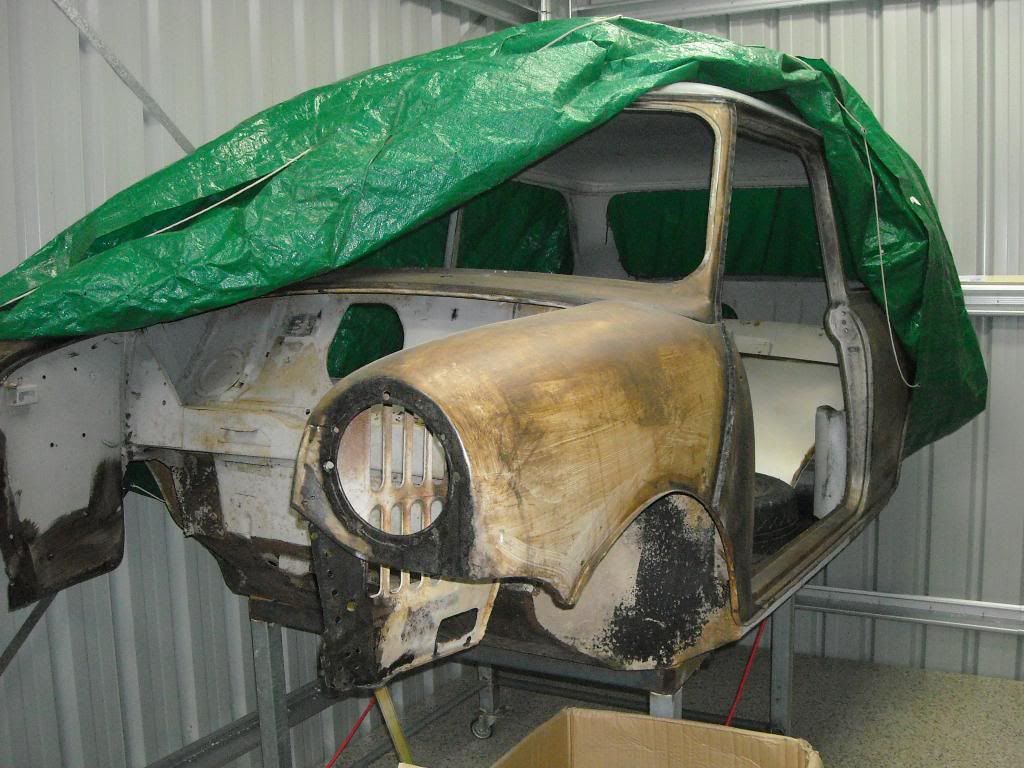 Anyway, fast forward to July 2013 - I get made redundant from my long time job with RSL Care. I took the redundancy and decided to start Tricky Performance Engineering as most of you know. The problem was now that I was doing clients cars, Leo was an even longer odd to get started. So, I decided to sell Leo as we needed the cash as well. I had the thought of selling him as a project with all that I had collected for the conversion - which in the past twelve months was a considerable amount of stuff - I also offered the incentive of completing the project for the succesful buyer.
Within a week I had an email from a guy in Victoria called Justin Lilburne - an avid Mini fan and previous owner of some very hot cars. Justin, like me, was after something unique, something special, something wild - like Leo. After some discussions we agreed that Justin could have the shell, engine and all the parts that I had accumulated over the past twelve months for what I paid for them - but, and extremely good news for me - I got to put him together!!! Luckily for me, Justin's vision for Leo and mine were almost identical (except for the colour, I wanted Rothmans Livery) - so everything that I had accumulated wouldnt be wasted - my dreams of building a mid-mount, RWD, road registerable, track beast would come true - thanks to Justin!!