ok,,, soooo,,,, after 3 diffs shredded now,,, 2 of freddys & one quaife
i`ve decided to rip a few "other" diffs out of stock & have a play
i`m currently in the middle of setting-up a salibury (Plate type) diff
it was looking like i may have had to creat a new (different design) cradle to fit the salisbury in
but i`ve just spent a few hours here at the shop this morning having a good look at things
it`s easier than i first thought,,, no need to change the cradle at all
2x 35mm go-kart axle bearings & their alloy mounts & we`re done,,, i can bolt it all back in after swapping the potty axles out for early splined Hardy spicer type assys
it`s funny as because it looks like the circlip on the inner axle falls neatly & nicely inbetween the 2 go-kart axle bearings,,, the distance is right,,, the small gap between the bearings is just right for the circlip,,, it`s almost like it was meant to be
I`ve bought a larger (44tooth) sprocket & machined it to fit the salisbury, i have our machine shop ready to make a mounting plate to bolt the new sprocket onto the diff
just sort another orange juice tin to cover it all & hold the oil in & we`re away
choofed i am
i have new alloy front hubs now,,, new 4-pot alloy calipers.
i have new alloy body shocks (twin adjustments) with titanium springs coming
taking the huge alloy 30 litre fuel tank out, replacing it with a small alloy 2litre one, i can do away with piles of weight from all that fuel & extra pump etc.... i`m taking the wings & brackets off the thing,,, i`m cutting big holes everywhere through the space-frame,,, i have Dale (my metal fabricator) making up some chrome-molly rear trailing arms,,, fitting small go-kart discs & alloy Norton bike calipers onto the back of it instead of all the moke arms & cast iron drums & backing plates & shoes & cyls etc etc
i`m ordering some titanium drive flanges foir it soon & maight even fork-out for some titanium axles while i`m at it
i will save (possibly) about 50kgs once it`s all done,,, add to that the zippy-er f/d ratio (Larger rear sprocket) ,,, also the new shock/spring package is half the weight
it`s almost like i`ll be taking one complete front & one complete rear wheel assy off the car in weight, plus removing so much other stuff ,,, 50kgs,,, can you even imagine what a loss of 50kgs will be like in this thing ???
add the sticky new Hoosier-daddy slicks & tighter diff & better dampners & stiffer springs & & &
Like the good ol Colin Chapman from Lotus used to say "If you want to go fast,,, just add less weight"
i heard a story from a few people years ago suggesting that Colin Chapman used to say that-> "design & build a very lightweight, high performance race car,,, designed with the best ideas,,, built with the best & lightest components & material,,,, then once it`s finished,,, take out half the materials"
so, here`s a pick of a few diffs i have here, Pall type,,, & 2x salisbury types, with a few sprockets i`ve been playing with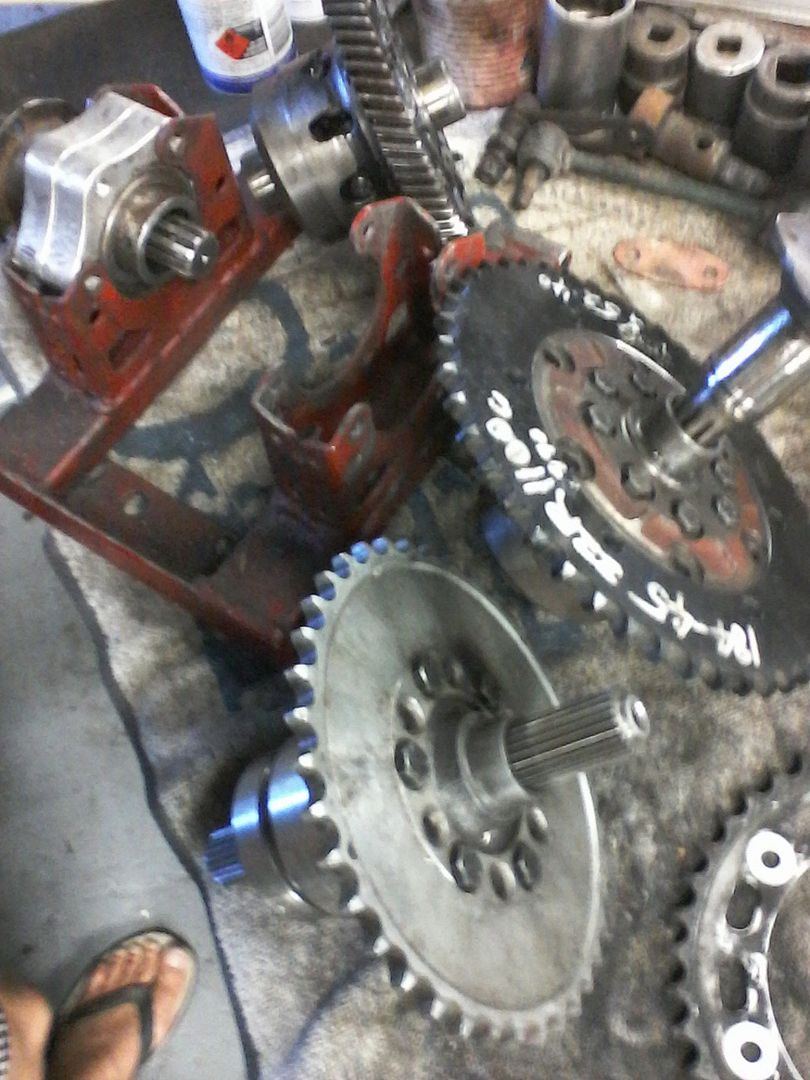 so,,, once i`ve finished all that change-over stuff,,, diff, shocks, springs, wings, fuel tank, tyres etc etc etc,,, add the new 10"x8" slicks for the hillclimbs & street sprints
& when i go to the big tracks like Lakeside & Morgan Pk etc,,, i`ll just add big 13"x10" slicks tyo get the gearing tall enough for the top-end long straights
easy enough to do at the workshop before i go,,, then swap the 10" slicks back on the for the hillclimbs... easy-peasy
i`m sorry for the long winded explanation here, but i`m so happy it`s looking so easy to swap diffs,,, i`ve been pondering this swap-over for a long while now & feared that i`d have to make a new cradle,,, took me ages to get the first cradle right
& looks like i can still use it for this new diff so i`m really really stoked
Now i`m REALLY hangin for another fangin
i`m trying for an entry into the Cootha Classic hillclimb in sept, so please cross all your fingers & toes for me cause my first attempt there i was running 2nd outright all day sat & 3rd outright all day sunday,,, & that was running dirt tyres
so now with much lighter weight,,, new shocks,,, new springs... new slicks,,, zippy-er & tighter diff etc,,, i`m just HANGIN FOR A FANGIN